The singer takes the stage for the first time in "Selected", alone on the stage that follows the life of Alfred Nakache, swimming champion survivor of the concentration camps. Interview.
Paris match. How do you go from a popular song to a single on a dramatic stage?
Amir Haddad. It all started with the shooting of the video for "J'aicheré" in the Alfred-Nakache swimming pool in Paris. This name appeals to me, I look on the internet and am touched by the life of this swimming champion who was deported to Auschwitz. In 2018 Steve Suissa contacted me. I'm surprised because the directors never call me… Mainly because he tells me, "I had a flash, I see you playing Nakache." I answer him: "A flash is not enough to become an actor!"[Il rit.] For a year he disappeared and in the middle of a pandemic he offered me a monologue. I accept without knowing what I'm getting into. I don't have the theater vocabulary, I imagined that I would read a text to an audience. Finally I discover the 25 pages of text; I understand that he expects me to memorize them and do some sort of dramatic one-man show. If I had known I would have declined!
Was becoming an actor a dream?
Yes. When I was 15 I went on stage to do songs and comedy. And then life put me on a very clear music box, and my dream of comedy faded. At 37, it's incredible to learn a new job that you've been dreaming about since you were 7. It allowed me to get out of a form of routine where I had all the comforts in the world. I had had many proposals to play Amir the singer before Steve's. Except I wasn't interested in playing someone who looks like me. For this reason I have taken back my last name: Amir tout court is a character, Amir Haddad is the man. In the theater, the character should not be Amir.
Your fans are benevolent, your personality does not lend itself to controversy. How do you manage this arrival into more… hostile territory?
Many doubted my abilities. But I understand, because so am I. You have to be realistic, I am a singer… Over time the complexities will arise, in the roles I will play, also in the songs. In addition, I am currently working on a new version of some of my titles, I want to revise my own repertoire. I don't want to be in a pink capsule forever.
Being on stage for comedy or music, is that the same?
I don't have stage fright. But all the work of staging, putting in voices, memorizing the lyrics, I couldn't get the hang of it. If in music it is sound that gives strength, in theater it is silence. Steve just asked me to learn the lyrics and then come back to see him to practice the production. Except it's a first for me and the risk is significant. I want to be proud of this project and how I achieved it. So I didn't settle for that: I worked with a coach, I read everything we could find out about Alfred, and I spoke to his family to find out how he behaved, what he liked to eat, what he called his cousins. And I went swimming before every rehearsal to physically feel what I'm talking about on stage. I had to make a connection with him.
†

Suddenly you are no longer Alfred Nakache, the winner, you are a Jew and you must be killed

†
Alfred Nakache's record is impressive, but we've forgotten who he was. Why do you think ?
Somehow it's his fault. He was humble in his life and he was humble in his death. When he returned from Auschwitz to find that the pool in Toulouse bore his name "posthumously" while he was still alive, he was amazed. Just like when he became a member of the Hall of Fame. He was a great man, but he didn't show it. But we need to talk about him, and his story, especially in this day and age.
"Selected" unfortunately reflects the current context…
It is a time when we doubt our ability to prevent history from repeating itself. And so this is when figures like Alfred Nakache can convey strong values. When he says, "In 1943, Paule and I were arrested by the Gestapo, our little Annie, handed over to a municipal institution," it is overwhelming. I am almost his age then, I have a job that also brought me public fame, I have a wife and a 3-year-old child, I have everything to put myself in his square. And I am North African and Jewish. Inevitably you wonder: did it happen to me tomorrow? What if the police knocked on my door and I was no longer the Amir they took a selfie with? His deportation was no longer unfair because he was famous, but there is an illusion of protection when you are famous. Suddenly we don't care that you won medals, that you made us proud, that you sang "La Marseillaise" in the biggest competitions… Suddenly you are no longer Alfred Nakache, the winner, you are a Jew and you have to commit suicide.
Were you interested in what happened in the camps to prepare for the role?
Growing up in a Jewish family, the subject comes up a lot. It is not something that can be erased. It would be the tragedy of our people if we let ourselves forget. There is a duty to remember. My wife's grandmother has been deported. I've never visited the camps, but I want to go there more than ever.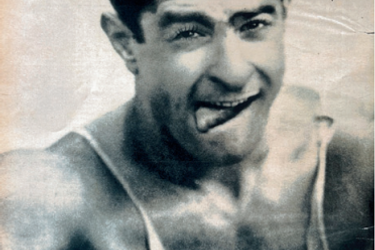 "Selected" from April 26 in Paris (Théâtre Édouard-VII)